Protesters storm Iranian Embassy in Abuja over Shiites' activities
Some protesters on Monday, February 10, were at the Iranian Embassy in Abuja over alleged plans of the country citizens causing a crisis in Nigeria. The protesters in their scores under the aegis of Concerned Citizens for Defence of Nigeria called for nationals of Iran to the leave the shores of Nigeria They called for the immediate expulsion of Iranians and their agents from the Nigerian soil.

A statement made available to journalists at the Iranian Embassy said the protest follows an attempt by Iran to cause havoc in Nigeria through their proxy organisation, the Islamic Movement in Nigeria (IMN). The statement which was signed by the convener of the group, Victoria Ameh, said IMN advocates the creation of an Iranian-style Islamic state in Nigeria. Ameh said: "Iran would stop at nothing until they achieve their desire to see to the collapse of Nigeria, and this is what Nigerians in their numbers have come out to reject in its entirety." She also alleged that the country's latest move stems from the fact that Nigeria, just like many other countries did not take sides with it over the diplomatic row it had with the United States of America over the killing of one of its top military commander, General Qasem Soleimani in Iraq. Ameh warned that Nigeria's integrity cannot be shaken irrespectively challenges the country might face. She said: "We, the members of the Concerned Citizens for the Defence of Nigeria, are gathered here today to send a strong message to the Iranian authorities in the light of the various revelations concerning how they have been plotting to see to the disintegration of Nigeria to suit their despicable purpose." She added that the government of Iran has not only exhibited an act despicable but of poor taste because it has begun a futile attempt at causing havoc in Nigeria. She said the activities of the IMN is fully sponsored by the government of Iran from time immemorial and have sponsored violent activities of Islamic organisation against other peaceful practising Muslims in Nigeria. "The Concerned Citizens for the Defense of Nigeria sees this act as an affront to the sovereignty of Nigeria, and this gathering is one amongst many civil means we intend to use to send a strong warning to the Government of Iran and their agents in Nigeria to desist from their evil ways or face the full wrath of Nigerians," Ameh added.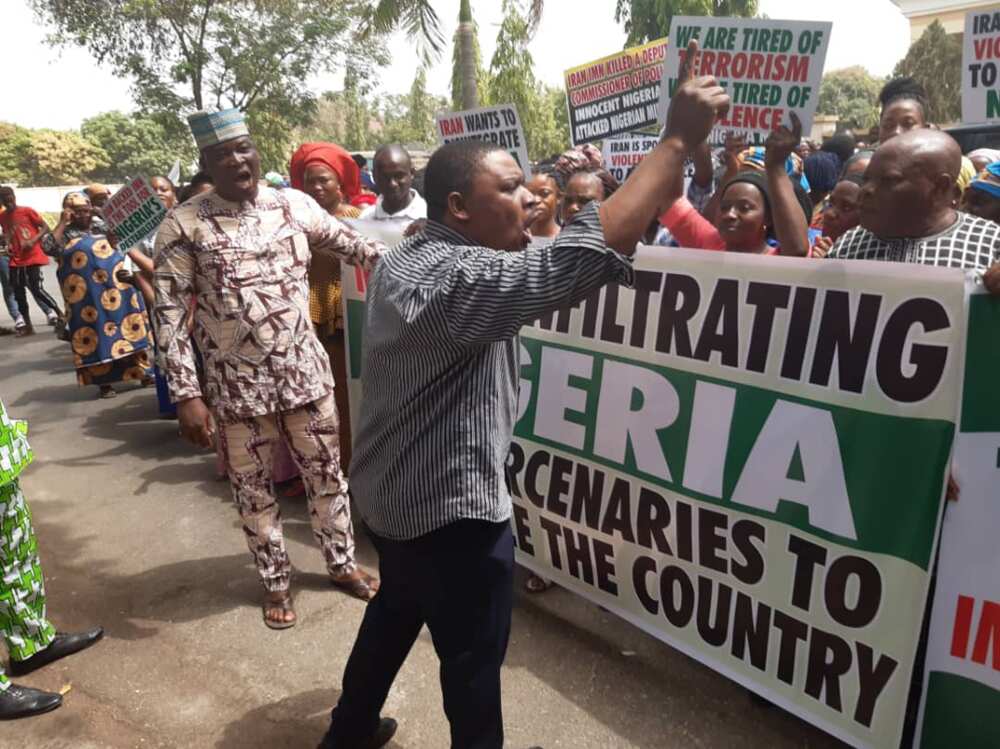 Related News