Burna Boy's 'Africans Unite Concert' In South Africa Canceled Due To Protests
Award-winning Nigerian singer Burna Boy has reportedly been withdrawn from the concert he was set to headline in South Africa.
The singer was withdrawn due to the rising anger towards him in the country. Some months back an people from other African countries based in South Africa were attacked by South Africans. Due to the xenophobic attacks, Burna Boy had vowed never to set foot in South Africa. Amidst the anger and hate, the singer had been involved in a war of words with South African rapper AKA which led to anger towards him from some citizens of the country. It was gathered that this was what made the oragnisers of the Africans Unite concert to cancel. The concert was set told on Saturday, November 23, and Sunday, November 24. The concert was cancelled and Burna Boy was withdrawn from it. Provisions have been made for fans who already bought tickets to be refunded. In a statement released, it said that Africans Unite will continue to drive meaningful engagements with the expectation to bring all Africans together as one. It earlier reported by Obiaksnews that South Africans showed their displeasure openly after it was announced by the organinsing body that Burna boy would be the main artist of the show, an organisation of local performers even went ahead to write a petition letter to the organisers to have Burna boy taken off the show.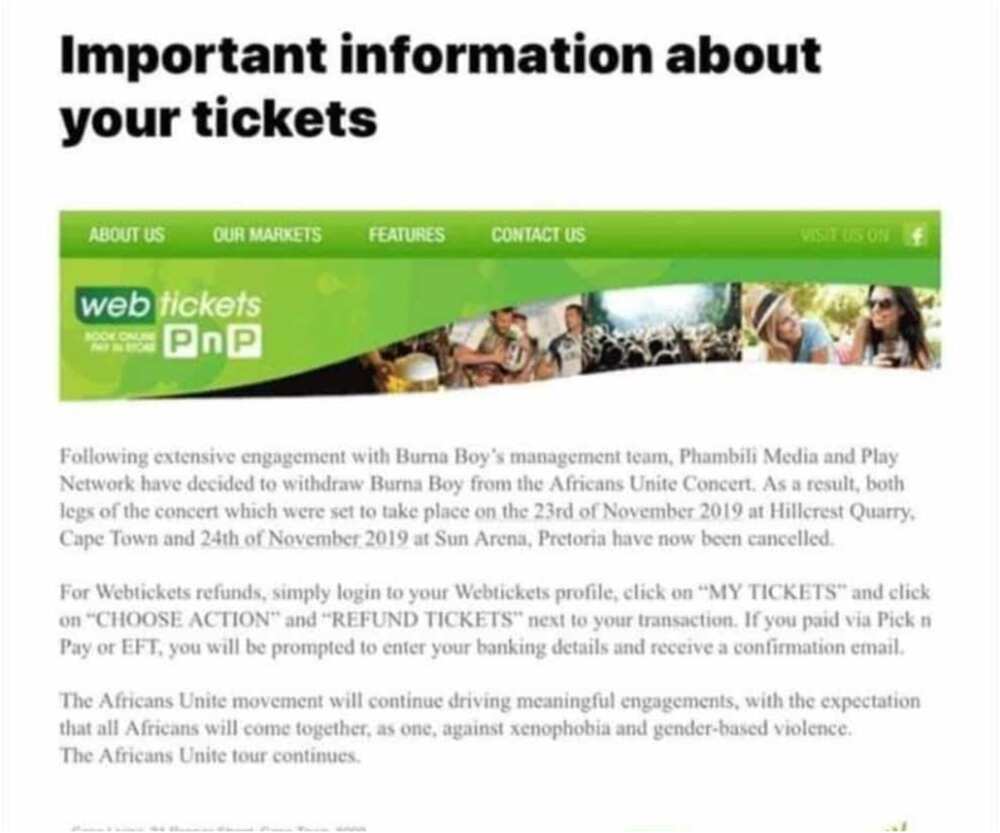 Related News