New York meeting paves way for Kim-Trump summit
The right-hand man to North Korean leader Kim Jong-un has met US Secretary of State Mike Pompeo in New York to discuss a historic summit.

Gen Kim Yong-chol dined with Mr Pompeo after flying in from China, and the two are due to meet again on Thursday.

He is the most senior North Korean to visit the
US in nearly 20 years.
US President Donald Trump cancelled the 12 June summit, but both sides have since made fresh efforts to hold it as planned.
Scheduled to happen in Singapore, the historic meeting between Mr Trump and Kim Jong-un would be the first between sitting US and North Korean leaders.
What do we know of the first meeting?
On Wednesday evening, Mr Pompeo and Gen Kim arrived separately at a building close to the UN headquarters.
Emerging later, Mr Pompeo tweeted: "Good working dinner with Kim Yong Chol in New York tonight. Steak, corn, and cheese on the menu."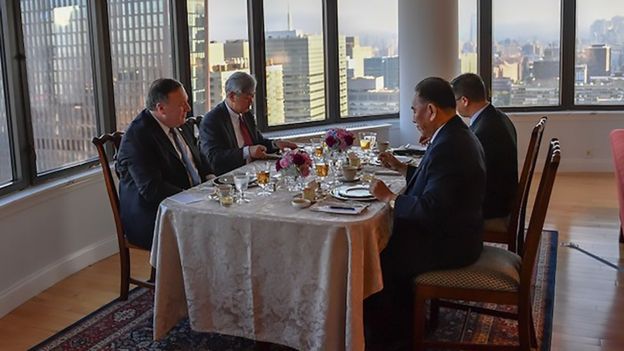 Ahead of the meeting, Mr Pompeo had set out the US position.
North Korea has strongly objected to statements by Trump administration members comparing North Korean denuclearisation to Libya's.
Former Libyan leader Colonel Gaddafi gave up his nuclear programme only for him to be killed by Western-backed rebels a few years later.
Further talks are planned for Thursday.
BBC
Related News